PDF version
To do research without restriction and to visualize complete genealogical records, it is necessary to buy consultation vouchers.
Once you have registered as member, upon accessing BMS2000 site, you will see, on the top of the page the user menu
My Account
Shopping Cart
User Guide
Search in BMS2000
Clicking on the first one, you will see your own file.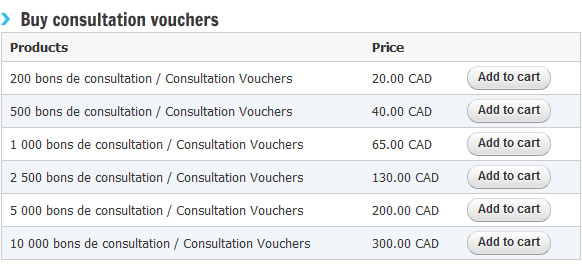 Click the button "Add to cart" to proceed to the purchase of consultation vouchers. Your order is added to he cart at the bottom of the page. Click the Checkout link to continue the process of purchase. On the following page you will be invited to register your name, first name as well as your address. Once the form is completed, click the button "Continue to next step" at the bottom left corner of the page.
You can now verify your order and choose your payment method. By choosing "PayPal" and by clicking the button "Continue to next step", you will be redirect to the PayPal web site to make the purchase. Once the transaction is completed you will be redirected to our web site and your consultation vouchers will be available immediately.
If you wish to pay by check, you can do it by sending your check to the indicated address. It is important to write the number of your order on the check, it facilitate the processing.
As you see it, it's simple, fast and effective.